---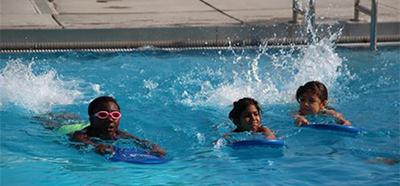 Learn to Swim this summer at the Glendale Heights Aquatic Center for safety and for fun! Register children each session so they do not lose their progress!
The Village of Glendale Heights Aquatic Center offers a progressive and self-paced swim lesson program each summer. We offer student-focused instruction while maintaining low, age-appropriate ratios. Classes run Monday through Thursday for two week sessions throughout the summer. We reserve Fridays as make-up days if we cancel class due to weather or events. Instructors test swimmers on the first day of class. If the swimmer does not show the skill set required for the course, the pool manager will reassign him to another level. Please note the appropriate fee or refund will apply. The best way to find the right class is to read the skills taught for each level. If the swimmer has not accomplished the listed goals, we recommend he start in that class. At the end of each session, each participant receives a certificate indicating his progress. All classes include a lesson on water safety. Lifeguards may present out of the water due to weather or subject matter, and the lesson counts as a class. We invite parents to observe from the concession area of the pool, but from this area only, to reduce distractions to students.
The Pool Manager holds final authority to cancel or postpone classes. In case of inclement weather, please call 630.260.6000 x3342 for the status of the swim lesson. There are no refunds for lessons missed due to inclement weather. There are no make-up classes or refunds for students who miss lessons.
Little Swimmers (8 months to 2 years with Parent)
This is an introductory swim class for parents and children. Fundamentals taught to children and parents include pool safety; comfort in the water; and front and back holds for floating, kicking, and arm moment.
Goal: Comfort in water
Moms and Minnows... and Dads! (2-3 years)
This class is for toddler-aged children who need some support from a familiar adult to develop basic skills. Children will focus on supported floating, kicking, and arm motions.
Goal: Entirely submerge body in water with a parent's guidance.
Minnows (3-5 years)
This class is for students who have not experienced swimming but are ready to be without a parent in a learning environment. Skills taught include comfort in the water, supported front and back floats, kicking and arm motions. Prepares swimmers for learn to swim program.
Goal: Entirely submerge body in water.
Level 1 - Beginner 1 (3-5 years)
This class is for students who are comfortable in the water, are able to fully put their faces in the water, or have passed the "Minnows" level. Skills taught include front and back swimming with support, kicking, and floating.
Goal: Perform back and front float without support.
Level 2 - Beginner 2 (5 years and up)
This class is for students who have passed the Beginner 1 level or are comfortable floating as well as swimming underwater. Skills taught include front and backstroke, glides, rotary breathing, and elementary backstroke.
Goal: Swim for at least 10 yards.
Level 3 - Intermediate (5 years and up)
The class is for students who passed Beginner 2 or are able to swim 10 yards with both the front backstroke nonstop. Skills taught include further development of rotary breathing, elementary backstroke, backstroke and treading while focusing on endurance.
Goal: Swim 25 yards backstroke and freestyle.
Level 4 - Advanced (5 years and up)
This class is for students focusing on developing strength and endurance after the Intermediate level. Instruction ranges from the fundamentals of swimming to perfecting stroke techniques to preparing for competitive swimming. Instructors tailor swim instruction to fit individual needs.
Goal: Swim all regulation strokes for at least 25 yards.
Level 5 - Elite (5 years and up)
This class is for swimmers who are able to swim the length of the pool (25 yards) and wish to prepare to join the Dolphins Swim Team. Program will introduce athletes and their families to competitive swimming as a sport. The instructors teach skills necessary to compete including the four competitive strokes as well as starts, turns and finishes.
Goal: Swim all regulation strokes for at least 50+ yards, regulation starts, and legal turns
Level 6 - Jr. Lifeguard Course (8 years and up)
Learn to lifeguard by registering for this skill development program that features the fundamentals of lifeguarding, including water-safety, basic rescue techniques, first-aid, CPR, weather and water conditions and how to create a safe aquatics environment. Swimmers will swim at least 100-300 yards each day. The program is taught by a certified lifeguard and will award a certification of completion.
Goal: Learn the fundamentals of lifeguarding
FlowRider Lessons
Instructors give equal time to students and develop lessons to specific students' level of experience. Stand up lessons taught with signed waiver and instructor permission. Maximum of 5 students per class. *FlowRider Lessons are not offered at 6:50 pm.
Practice strokes, turns and other swimming techniques. For participants on the Dolphins Swim Team as well as those in Advanced or Elite levels of swim lessons, this course will teach drills to develop faster and more efficient swimming. Each course is a one-day event that focuses on a specific aspect of swimming. Fee is per clinic.
For specific coaching or private instruction, the Aquatic Center pairs the participant with a qualified swim instructor. Private swim lessons are available at designated times for a duration of 40 minutes offered in two week sessions or an eight week Sunday only session. Those interested in diving lessons should register in this course as well. Please inform the front desk of any individual needs at registration.
It is never too late to learn to swim! Lifeguards teach swimming for adult beginners, focusing on fundamental techniques of floating, breathing, kicking, and arm movements. Swimmers will begin using kick boards and floating dumbbells and graduate to freestyle swimming when ready.