---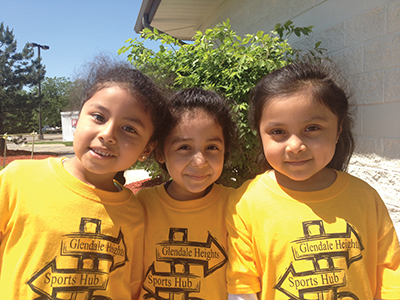 PATH stands for Play at the Hub. We invite all area residents and community children to participate in youth recreation programs designed to foster knowledge, creativity, physical stamina and character in the Village's after school, summer camp and day off programs. We work closely with Queen Bee School District 16, Marquardt School District 15 and the Glendale Heights Preschool Program to provide programs that complement schedules and curricula while providing participants with a nurturing, yet engaging, place to play.
Registration begins June 1.
For the latest rates and to register your child, please call the Sports Hub at 630.260.6060.
Schools require three business days to be added to the school bus roster.
PATH welcomes middle school students to spend their afternoons at the Sports Hub! Participants can plan and help younger students, attend open gym, complete service projects, play games, and more with a qualified PATH After School mentor. The program operates from 3:00 pm to 6:30 pm, but parents are welcome to pick up the students at any convenient time before 6:30 pm. Parents may authorize self-release for a specified time. Transportation is not provided from Glenside Middle School to the Sports Hub.
Please refer to the program guide for pricing and schedule!
Open every school day (no half days)
Includes early release Mondays
When in-person classes are cancelled, PATH is also cancelled.
Transportation will be provided by School Districts 15 and 16 in Glendale Heights. Register early as there may be limited availability on busses.
For the before school program: Students not present by bus pick-up time will not be brought to school by the Village of Glendale Heights. Parents will need to arrange pick-up. We will not accept a student in our care if the child's bus has already departed.
Students participate in a wide range of athletic, creative, and academic activities each day. While PATH makes timme for homework, we aim to spend after school time constructively with planned activities written by education and recreation professionals. Students might learn about another country, participate in a talent show, or play in a basketball tournament. Every day is different, but always fun!
The main benefit of after school programming is it widens your child's interests. It fosters development of innate talents for new activities and provides opportunities to hone them further. After school activities discourage children from having too much "screen time."
Children in after school programs learn to cooperate in a group settng, becoming confident "citizens of the world." In doing so, they learn what it means to follow rules and be a team player. They also learn better communication skills and how to think on their feet. Besides improving school attendance and academic performance, the programs reinforce school learning with practitical application.