---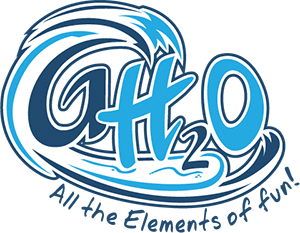 Come to Glendale Heights' Aquatic Center (GH2O) and experience the fun and excitement! The facility offers a wide range of water attractions that fill the needs of ALL ages. The highlight of GH2O is the FlowRider surf simulator. The adventurous can spend their visit body-boarding and surfing while others enjoy the splash pad, water slides, diving boards, zero-depth pool, sand volleyball and sand play area.
Pre-Season (May 27 - May 29):
12:00pm - 5:00pm
Regular Season (June 3 - August 11):
Monday-Friday: 12:00pm* - 7:00pm
Saturday-Sunday: 12:00pm* - 5:00pm
July 4: 12:00pm* - 5:00pm
Post-Season (August 12 - September 3):
Weekends Only: 12:00pm* - 5:00pm
Labor Day: 12:00pm* - 5:00pm
* GH20 opens for passholders at 11:30am.
Several days throughout the season, the Aquatic Center may open later and close earlier due to swim meets. See swim team meet schedule on page 11 of the program guide. Portions of the facility may be closed for swim lessons.
FlowRider Surf Simulator (for experienced riders only)
Twin Water Slides
Zero-Depth Pool (easy entry)
Splash Pad
1 & 3 Meter Diving Boards
Drop Slide
6 Lane Lap Pool
Willy the Whale Water Slide
Sand Play Area
Sand Volleyball Court
Concession Stand
Grassy area
$7/R and $12/NR
Children under 3 are free
Membership Type
Early Bird (R/NR)
Rate (R/NR)
5/1 -5/22
After 5/22
Individual
$70
$90
$95
$115
Senior Citizen (Age 60+)
$30
$50
$50
$70
Proof of residency is REQUIRED!
There is a $5 fee to reprint pool passes. Your pass from last year will still work after you renew your membership!
Aquatic Center Rules & Regulations
Proof of residency is required to receive the resident rate.
All swimsuits MUST have a lining.
Outside food & beverages may be brought into the facility. Food and beverages are available at the vending machines and may only be eaten in designated areas. No food is allowed on the pool deck at any time.
Children under the age of 8 need to be accompanied by a responsible person at least 14 years old.
A waiver must be signed if you wish to stand-up surf on the FlowRider.
If there is inclement weather and the facility closes, no refunds will be issued.
For a complete list of all GH2O Aquatic Center rules, please refer to our rule sheet.