---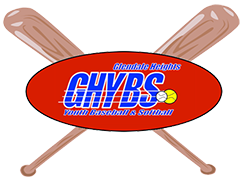 GHYBS provides baseball and softball to youth ages 5 to 14. Teams are formed by a draft conducted by the coaches. The regular season begins in April and runs through the end of June. Specific days and times are selected by the volunteer coaches. Post-season tournament teams play in July. Additional fees will apply to tournament teams playing in the post-season.
Registration Deadline: March 6
Level
Age
Early Registration
Fee After 3/6
T-ball
5-6;
$105/$130
$130/$155
Instructional
7-8
$130/$155
$155/$180
Minor
9-10
$170/$195
$195/$220
Major
11-12
$170/$195
$195/$220
Pony
13-14
$170/$195
$195/$220
Registrations after March 6 will be accepted based on availability and team placement is not guaranteed.
* T-ball season begins in early May and will run through mid-July.
Volunteer coaches wanter! Practice 1-2 times per week with a variety of options to fit your schedule. All equipment is provided. Coaches are reimbursed their child's registration costs at the end of the season (1 child max). Coaches will also be entered in a drawing for a $100 Sports Hub gift card - 3 drawings per year (December, May, and August).