---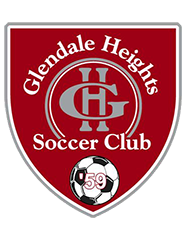 Players will work alongside volunteer coaches through practice and games in this seven (7) game season. Teams will practice 1-2 times per week based on the assigned volunteer coach's availability. Games are played on Saturday and can take place in Glendale Heights or at any of the other participating town locations (Addison, Bensenville, Itasca, Medinah, Roselle, Villa Park & Wood Dale). Teams are formed in late March with practice information sent to players shortly after.
Regular season games run April 13 - June 1.
For questions regarding the league, please contact Eric Sloyan at 630.909.5366 or eric_sloyan@glendaleheights.org
.
Equipment: Each player is required to have shin guards at both practices and games. Players are also required to wear the proper outdoor soccer cleats to ensure a better and safer experience on the field. Children are encouraged to bring their own ball to practice - see below for sizes.
Uniform: New players must purchase a uniform for $25 at the time of registration. Players who have played in the Summer, Fall or Winter League this year do not need to purchase a new uniform. Uniforms include jersey, shorts, socks.
Keep your soccer skills sharp this winter season with the help of our winter skills clinic. Players will work alongside licensed coaches on a variety of skills including dribbling, passing, shooting and speed training. Each division includes age appropriate drills and activities that are perfect for players of all skill levels. This is a great option for players looking to participate in our upcoming Spring Outdoor Soccer League!
Our facility is a hockey rink style field, measuring 175' by 75' wide. Hourly field rentals are available. For more information, including fees, call 630.909.5366 or email us!